You had me at merlot: creative ways to gift wine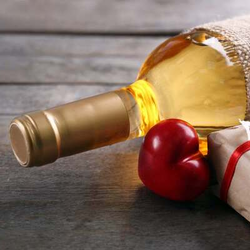 Gifting a bottle of wine can sometimes come off a little underwhelming if you don't prep the overall presentation with a little more jazz and flair. If you've spent a good amount of time and money on finding the perfect drop for someone, it's always well worth the extra effort to make it look the part as well. So in this post, we're highlighting some easy ways you can get creative when it comes to personalising that top-notch vino for a friend, family member or colleague.
Create a kit out of it
A great way to put some extra pizazz into this kind of approach is to make a whole ensemble out of it. Create a sangria kit – for example – so that the receiver has all the essentials on hand to make the ultimate cocktail whenever they're craving it.
Tip: If you're gifting sparkling wine, include a few different types of fresh fruits in your kit as well.
Use a scarf or towel
If you want to do something outside-the-box, find a scarf or tea towel that looks like it'd pike the interests of the person you're giving it to. Wrap the bottle in the material and secure it with some twine or ribbon, if need be.
Include a bottle opener
Not everyone has this staple on hand, and usually, they're never around when you need them most. Hand over your chosen bottle of vino with a nifty bottle opener, and it'll be their new best friend for years to come.
Make a hamper
Use a basket or box to curate all of your top picks in wine, cheese, magazines or candles to really create something special. Fill it with all the goodies you know your special someone will love, and don't be afraid to think differently.
We also recommend choosing a nice, thick ribbon to line the top of the basket with, securing it in a bow at the front. Throw on a plain gift tag with cursive writing, and you're good to go.
A bow goes a long way
If you don't want to do anything too 'crazy', choose a wine bag from our selection and a bow to go on top of it. Or keep it all simple by just including a nice selection of words on the attached tag. It doesn't have to be complicated.
Shop a range of gift wrapping designs and products through our website, with delivery available right across Australia. If you're not sure how to get started, call us now on 03 9546 1188 for more information and guidance.
---
Leave a comment