Date Posted: 11 July 2017
Calico Bags - 100% Cotton
Our Calico Bags are made with 100% cotton. They are washable, durable and reusable and great for the environment. We have a large range of Calico Bags, including drawstring calico bags, shoulder and two handles calico bags.
If you are looking at buying bags that are environmentally friendly, can be reused again and again, then our Calico Bags will be perfect.
Our calico bags are very durable, they are not thin and this makes them great for schools to use for painting, and also for printing on. If you are interested in having your bags printed, take a look at our screen printed calico bag options. If you want more detailed design with multiple colours, just send us an email for a quote.
The calico bags are also cross stitched on the inside seams, which gives them extra strength, making our calico bags even better! Making our calico tote bags the best value and quality!
Small Drawstring Calico Bags
Click Here to see full range: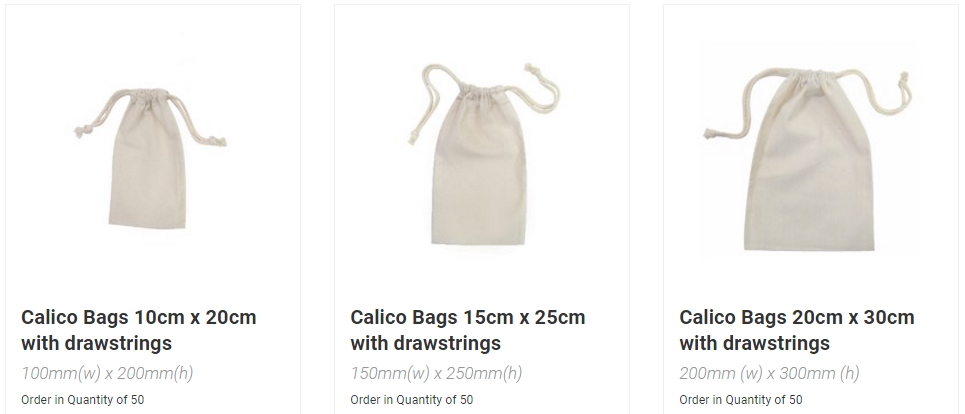 Medium Drawstring Calico Bags
Click Here to see full range: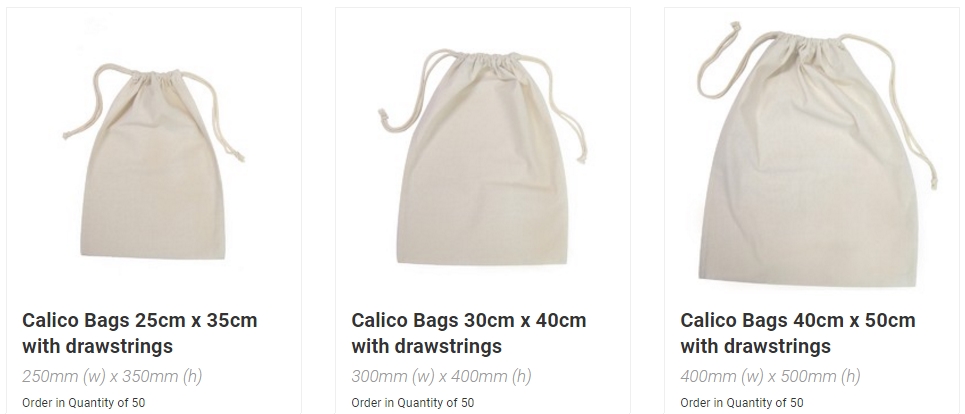 Shoulder, Tote & Two Handle Calico Bags
Click Here to see full range: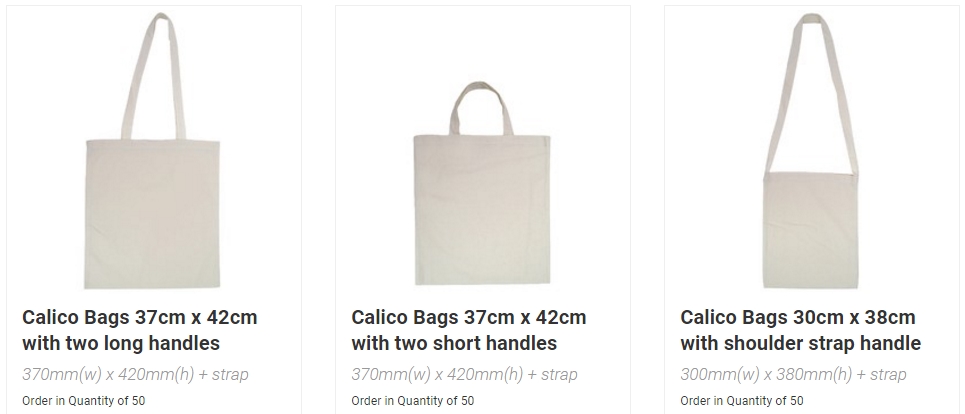 Would you like your own printed Calico Bag?
We offer our calico bags in bulk, from as little as 25pcs upwards of thousands. So if you need wholesale pricing for bigger quantities, you can register for a wholesale account. We are based in Melbourne, but we ship Australia Wide. Take a look at our competitive freight prices and depending on your location and order size you may apply for Free delivery!
Need samples? No problem. Visit our Showroom or Contact Us by Email

That's the end of the blog! Thanks for your time.
Want to have your say? Add a comment below...
Personalised bags

Hi I'm interested in your bags. I'm just wondering if you make them in velvet at all please?




Gift Packaging & Accessories Pty Limited Response
We can specially produce them for you. You can email shop@giftpackaging.com.au with what size and colour you would like.
Black personalised calico

By

Karen

- 17 October 2018

am i able to order black calico with our logo? Karen




Gift Packaging & Accessories Pty Limited Response
Hi Karen, You sure can! Flick over an email to us at shop@giftpackaging.com.au We just introduced black calico bags and we can print on them too :-)