Date Posted: 9 December 2022 | Written By Gift Packaging
Need an order Urgently?
The team at Gift Packaging & Accessories understands that sometimes you just can't wait in the packing & processing line when your business depends on it! Sometimes you simply need stock urgently or your client has made a request for packaging pretty much "Yesterday!".
For these reasons our team are inundated with requests for same day pick up or same-day dispatch. Although our warehouse team work fast and are always improving efficiency of operations, at busy times of the year our processing times can still unfortunately reach 3 or more business days simply due to the high volume of orders received.
All of our customers are important to us, big or small, so to ensure we can accommodate everyone we are pleased to offer a few useful options for anyone who wishes to skip the packing queue!
When we say skip the queue… we mean our staff will almost literally drop what they are doing and get your order packed! Check these options below to see if one might be suitable for you!
Option 1. Express Delivery
Choose this option in the Shipping Method section at the check-out and you will have your order dispatched same-day if ordered by 11am Melbourne time. The delivery itself will also be sent on an Express Delivery Service. The transit times can vary depending on your location so please check Delivery Information page.
Option 2. Express Pick Up (3-hours)
Why wait for the postie to rock up, when you can come and get your hands on those goodies yourself!
Choose this option in the Shipping Method section at the check-out and your order will be ready to collect from our warehouse within 3 hours of ordering! Please order by 2pm for same-day collection. We will let you know when it is ready to collect, so that you can head over only once ready and avoid any waiting around.
Option 3. Express Packing
Simply Add Express Packing to your cart to skip our packing & processing queue! This should be added to your cart only if you are choosing Standard Delivery or Customer Courier shipping options. Order by 10am to increase your chances of a same-day dispatch. This will not fast-track your delivery however.
Option 4. Customer Courier
Choose this option in the Shipping Method section at the check-out if you would like to arrange your own preferred courier to collect and complete delivery on your behalf. Perhaps your own courier can provide a super speedy service!
Now this option will not allow you to skip the packing and processing queue in itself, so you will need to add Express Packing to your cart if you want to skip the queue! A team member will be in touch with the parcel size/weight as soon as the order has been packed so that you can arrange your own courier.
Is there a fee for any of these options?
The Express Delivery shipping price will be calculated on the shopping cart page once you have added everything to your shopping cart. Please enter your postcode into the shipping calculator and click 'Calculate' to check the price.
We do not charge a fee for the Customer Courier shipping option unless you require the goodies on a pallet, you will also need to arrange the delivery & connotes on your end, once we have notified you that the order is packed.
As for Express Packing or Express Pick up there is a small fixed fee that will not vary at all, regardless of the order size. This fee covers our team to assign 1 or 2, possibly even 3 staff members to pick, pack & label your order with urgency… specially for you!
What if I have a deadline?
We welcome you to email our friendly and experienced customer service team with your deadline, a list of what you're after and the delivery location so they can let you know what the best option might be, they might have something special that they can organise for you!
So what are you waiting for?! Try one of these options today and let us work our packing magic for you!
Our friendly team are available to chat so please don't hesitate to give us a call during opening hours on 03 9546 1188 to answer any urgent questions you may have or Send us an Email.
All the best, from The Gift Packaging Team.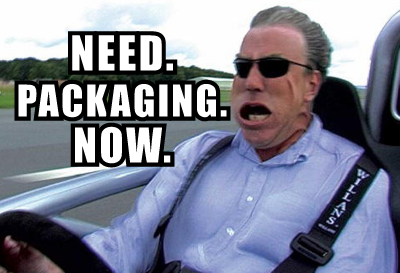 That's the end of the blog! Thanks for your time.
Want to have your say? Add a comment below...