Date Posted: 21 March 2023 | Written By Gift Packaging
Branding For Your Business
Digital Printed Kraft Bags: A Versatile and Affordable Packaging Solution
Kraft Bags are a popular choice for gift packaging, retail packaging, and other packaging needs due to their natural look, durability, and affordability. However, with Digital Printing, kraft bags can now offer much more than just a simple, eco-friendly solution.
Digital Printing allows for high-quality, full-colour printing on kraft bags, making it easy to add branding or custom designs to the bags. This can make the bags more eye-catching and help to promote the brand, making them an effective marketing tool. The printing process uses high-quality, water-resistant inks, ensuring that the printed designs will remain vibrant and last for a long time.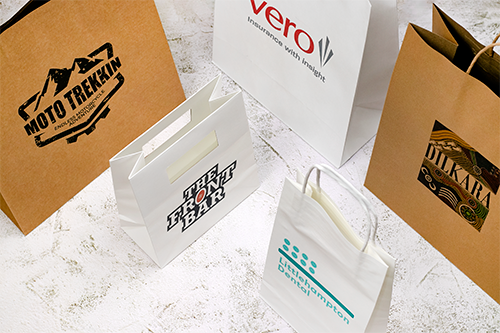 In addition to the visual benefits, Digital Printing also offers greater flexibility in terms of printing smaller quantities. This makes it a great option for businesses who want to order Custom Printed Kraft Bags on a smaller scale. Digital Printing allows for quick turnaround times, so businesses can get their custom bags printed and shipped quickly. This makes it easier to respond to changing market trends and to test new design ideas.
Another advantage of digital printed kraft bags is their eco-friendliness. Kraft paper is made from recycled materials and is biodegradable, making it an environmentally responsible choice for packaging. And because the printing process uses less ink and generates less waste than traditional printing methods, digital printing on kraft bags is a sustainable option.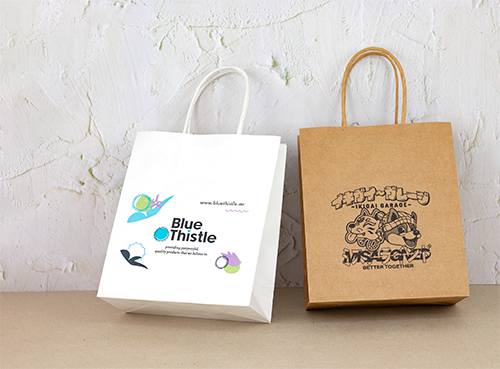 If you are looking for printed kraft bags for your business, here at Gift Packaging we have different options including quick turnaround digital printed kraft bags.
That's the end of the blog! Thanks for your time.
Want to have your say? Add a comment below...