Date Posted: 21 November 2019 | Written By Gift Packaging
Easy and Sustainable Gift Wrap Ideas
In a world where we are becoming more and more conscious of our carbon footprint, doing the little things for the environment around us is becoming a widespread priority. Even the smaller details of our day and shift in minor actions can have a profound effect. So it only seems right to do a post on some sustainability tips and tricks we've got up our sleeves.
Even as you gear up to wrap that entire cupboard full of gifts into little bundles for the Christmas tree, you can do good for the environment.
Our top tips for sustainable gift wrapping:
Ditch the mass-created reels of seasonal gift wrap this year and switch it out for some creative, inspired ways to go green.
Go natural with brown paper
If you haven't noticed, we're in love with this trend, but it's for a good reason. Creating a simple, yet natural look, the use of brown paper pays homage to organic vibes and a rustic feel. Add a touch of greenery on top (instead of a ribbon) with some fresh picks from your bushes in the front yard. Alternatively, secure some twigs behind some twine for something a little different.
It's time to recycle
If you've got some spare fabric lying around, or perhaps picked some up at the local op shop, this is where it will all come into good use. Just like you would with paper, wrap up your gift and secure as usual. Another creative way to finish it off is by knotting it at the top, rather than using tape or ribbon.
Pro tip: Handkerchiefs, tea towels, old clothes and pretty hessian bags can all work here. Just make sure the fabric is clean.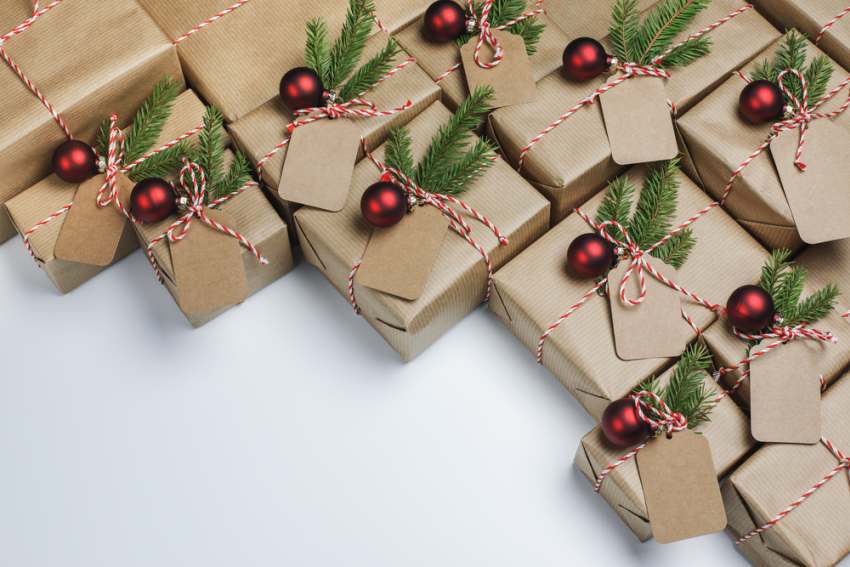 Use your own creativity
No one said you had to use pre-made patterns and prints to wrap up your goodies. Grab some of that nifty brown paper we like to use (otherwise known as Kraft paper) and paint your own designs across the paper. You can also use stamps, stencils and other bits and pieces to get creative. Have fun experimenting – there are no boundaries.
Newspaper
Even yesterday's news has a place today. If you've got some old papers lying around, re-use them as wrapping. Even telephone books can work (if you still manage to have these in your home) but are more ideal for smaller gifts.
Photos and Postcards
Some of us just like to get a little sentimental. Evoke the nostalgia by adding photos or old postcards on top of your brown wrapping paper. Secure with a ribbon or twine.
Paper Bags
Okay, this is one easy but is a great way to do something outside-the-box. Place your goodies in a paper bag that's been turned inside out, and then sew the open sides together. It's that simple.
Keep your fragile items safe
If you're worried about getting all green but risking your more expensive gifts along the way, we stock a Recycleable Protective Packaging Paper option that acts as an alternative to bubble wrap. It's eco-friendly, protects your valuables and still looks like gift wrap. Perfect.
What are your favourite ways to get creative with gift wrapping?
That's the end of the blog! Thanks for your time.
Want to have your say? Add a comment below...