Date Posted: 24 November 2019 | Written By Gift Packaging
Gift Wrapping Colour Palettes We Can't Get Enough Of
Santa's already peeping around the corner, sack in hand and ready to hit our chimneys. But if you're not quite ready for the seasonal rush, don't stress – we've got you covered. Read up on what's inspiring our team at Gift Packaging, with these colour combination hits.

Kraft Brown and Red
We're fans of the 'organic' look, and nothing quite tops it off like some nifty brown Gift Wrapping Paper or even a paper bag. Otherwise known as 'kraft', brown is definitely in when it comes to wrapping trends – be it for a birthday or Christmas.

Snatch up some of this and grab plenty of Red Ribbon while you're at it. The trick here is to tightly cover your gift so that there are zero wrinkles or bumps. Then, carefully place the ribbon around the centre or top of the present, and secure with a bit of washi tape (or clear tape, if you don't have anything else).
Add a blank, brown gift tag for a rustic look.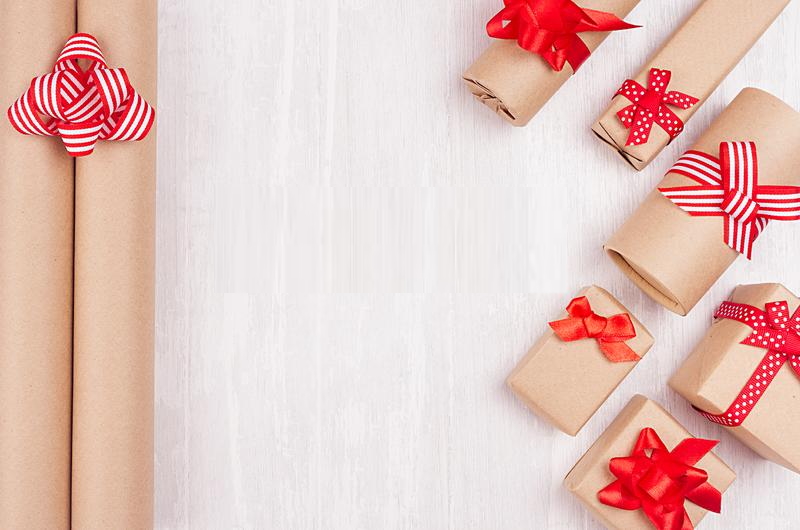 Black and Gold
It's a timeless classic that we'll never get enough of. Perfect for work Kris Kringles, your loved ones or even a friend, the black and gold combination never fails. Best of all, you can experiment with the depth of gold, mixing lighter tones with black ribbon or using a medium tone for something more subtle.
If you're after something for the kids using this colour palette, opt for patterns like dots – just to give it a more 'playful' look.
Red and Silver
Would it really be the Silly Season without the good, old red and silver duo? Give smiles all round with this easy look, and don't forget the ribbon. To really complete this option, though, you'll need to mingle with prints and patterns. We're loving white pin-stripes on a red backdrop.
Green and Brown
That nifty brown paper again – but for good reason. This one is a real crowd-pleasure and screams 'natural'. For a soft, elegant look that appeals to the young and old, wrap your gift in brown paper (or pop in a bag) and secure with a light, pastel-green ribbon.
Black and Red
Find the cutest patterns or prints stamped out in black, secure with a red ribbon and voila – a simple look that's still got an edge to it. This is especially handy when you need to remain neutral or as part of a theme.
Pro tip: if you're not sure which colour matchup to choose, our best tip is to create a theme in your mind for that specific occasion. If you're dishing out a number of gifts, use one colour palette and mix the variations of it up for each present.

Need to stock up on some gift wrap or bags for your next big event (or in time for Santa's annual visit?). Check out our range here.
That's the end of the blog! Thanks for your time.
Want to have your say? Add a comment below...