Date Posted: 15 August 2023 | Written By Gift Packaging
New Calico Bag Sizes Have Arrived!
We are thrilled to introduce 3 new additional sizes to our Calico Bag collection along with a premium version of our most popular calico tote bag! All made from high quality 100% cotton, these eco-friendly carriers are not only durable with cross-stitched inner seams, but also stylish, providing the perfect solution for all your gifting needs. Discover the new range of calico bags we have meticulously designed to suit various purposes.
10 x 12cm Drawstring – A Tiny Treasure Holder
This new 10cm x 12cm Drawstring Calico Bag is perfectly crafted to house your delicate trinkets and tiny gifts, ideal for jewellery, small accessories, and sentimental keepsakes. Whether you're giving a cherished necklace or a dainty bracelet, this compact and petite pouch will make your gift even more memorable. Available in both Natural and Black!
20 x 20cm Drawstring – Versatility Meets Style
Our 20cm x 20cm Drawstring Calico Bag, offers a tailored fit to accommodate short and stubby gifts like scented candles, mugs, small figurines and more! It's a perfectly proportioned bag size to accommodate those particularly wide but short gifts when you don't want there to be too much space within the bag. Embrace the rustic charm of these bags as they beautifully compliment your thoughtful gifts and presents. Available in both Natural and Black!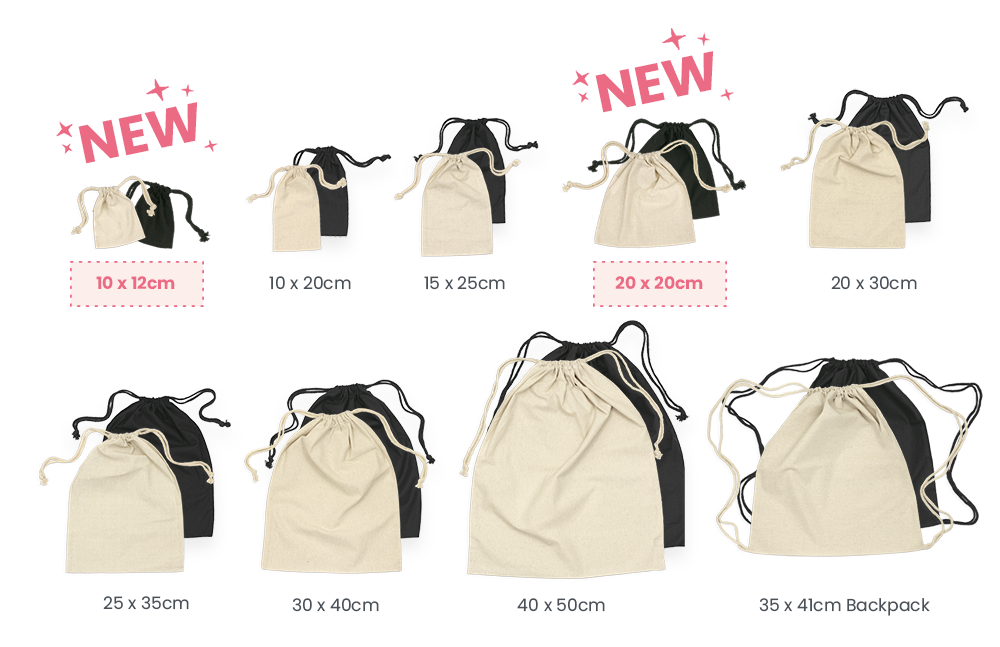 22 x 26cm with Short Handles – The Mini Tote with a Purpose
This Mini 22cm x 26cm Calico tote bag with two short handles, is a multi-functional gem that serves as a petite tote bag for small gifts or even as a trusty companion during scavenger hunts and outings. Its size also makes an excellent accessory for Easter egg hunts, birthday parties or other special events! It would make a great, petite, event goodie bag for skincare, make up and other small retail products. The short handles offer a comfortable grip, allowing you to easily carry around your goodies and gifts. Available in both Natural and Black!
Premium 37 x 42cm with Long Handles – A Sturdier Option
Our new premium calico bag 37cm x 42cm with long handles is designed for those seeking a more robust and sturdier solution than our regular tote bags! Made from thicker 170gsm cotton, this tote bag is designed to carry heavier loads providing durability and reliability, perfect for groceries, books, or any everyday essentials. Available exclusively only in our Natural colourway!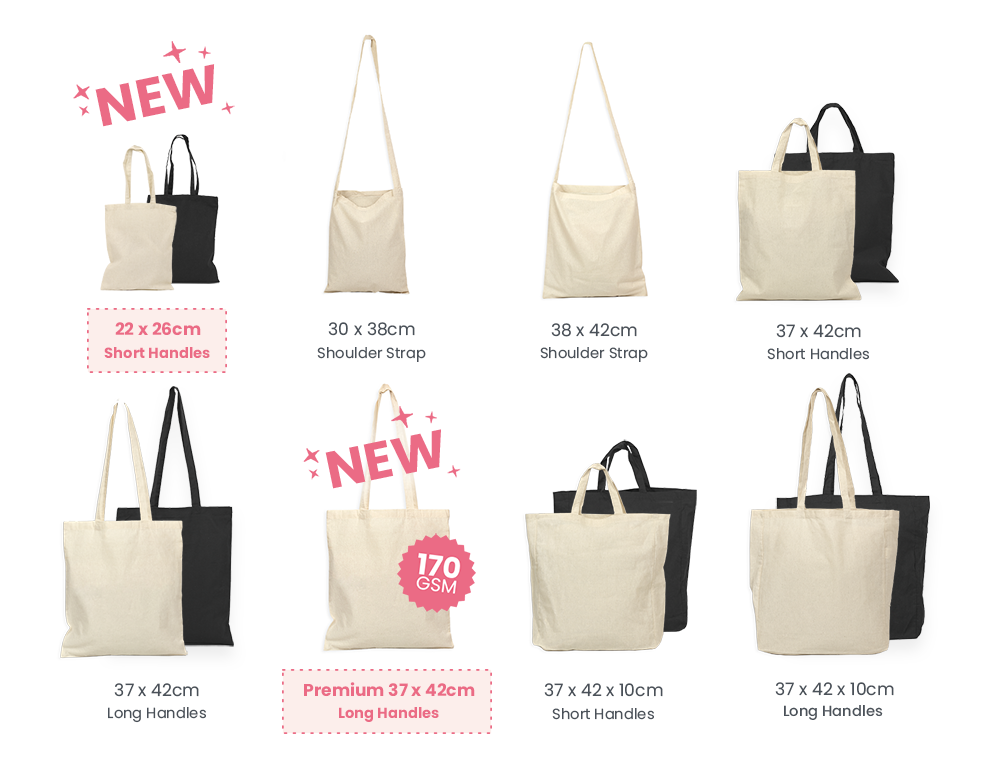 Our new calico bag collection offers a diverse, stylish and sustainable range to cater for all your gifting needs and more!
That's the end of the blog! Thanks for your time.
Want to have your say? Add a comment below...