Personalised Custom Printed Ribbon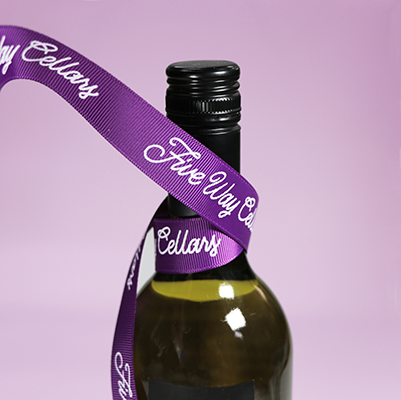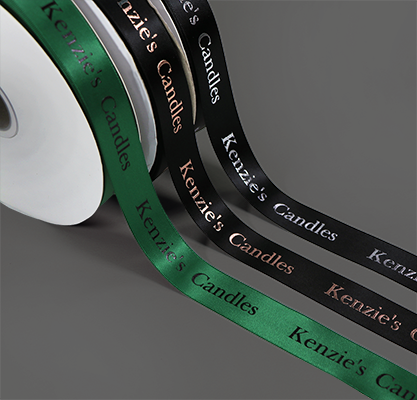 Your very own printed ribbon! Starting at minimum of just 2 rolls of 91 metres.
Over 30 ribbon colours to choose from. Using custom printed ribbon is fantastic way to brand your products. Printed ribbon is a subtle but an effective way to embellish your items with that essence of style and class! Making your products stand out is all too important these days and using printed ribbon can be an effective marketing tool.
You can use printed ribbon to create bows, wrap corporate gifts, use on hampers, bundling presentation folders/books, decorate and enhance products in Retail areas and many other applications. When customers are looking at 2 products on a shelf, make sure your product packaging stands out as you will find that products presented better will increase sales, product loyalty and have more people talking about it!

Ribbon Types
- Single Sided Satin
- Grosgrain
- Double-Sided Satin

Print Options
- Silk Screen Print - Pantone colour match
- Hot Stamp Foil Print - Metallic Foil look
- Puff Print - Embossed look - Pantone colour match

Ribbon Widths
- 6mm 10mm 16mm 19mm 22mm 26mm 38mm+
Note:
Some designs/artworks are unable to be printed on smaller ribbon sizes. Please send us your design and we can provide our best advice on suitable ribbon width. We require your design in vector format, or please send us your highest quality file for assessment of suitability. Minimum is 2 rolls of 91 metres if only requiring a 1 colour print. Minimum is 3 rolls for a 2 colour print.

Send us an email with your requirements to shop@giftpackaging.com.au or provide your details below.