Date Posted: 21 December 2022 | Written By Gift Packaging
What's New On Our New Website!?

Out with the old and in with the new! Our new website giftpackaging.com.au is live!

We are excited to present our lovely clients and customers a refreshed and intuitive shopping experience. We've got loads more information pages about our services for you to browse and simple, user-friendly, navigation across the online store that remains familiar to our long-term customers. Now we could sit here all day and talk about the speed improvements, bug fixes and other IT jargon but we've made some interesting feature improvements that we know you would really like to hear about! We have packed these key improvements into a summary below.
You're going to love logging in!
That's right, whenever you head to our online store you're going to be so excited to log in! Why? Because you will have access to a new, beautifully arranged Account summary page (Image Below) showing your past orders in a super organised fashion. Browse your order history much faster, print an invoice, track your order, review quotes, check shipping information, make shopping lists and even repeat an order with the click of a button! We have improved the functionality and useability of all your My Account features so that you'll be able to shop, sooner! Need to update your address book or contact details? You bet you can achieve this with ease, with just a few clicks!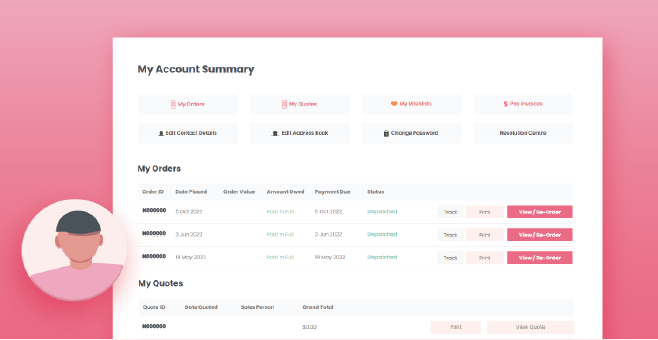 Re-order with the click of a button!
Say goodbye to manually searching up the products you last ordered and adding them all to the cart one by one! Now you can simply click a button and all those products on a previous order will be added to the shopping cart for you!
How does it work?
Find the order that you wish to repeat, click "View Order/Re-order"
On the "View order" page, you will now find the "Re-order" button (Image Below)
Need to change the quantity or remove an item? No problem, navigate to the shopping cart and make any adjustments you like!
Want to order more goodies? Well we knew you would love our products, so we made sure you can! Simply keep shopping on our website and just check out when you're ready!
Are there any limitations? Well just one! Samples or Bespoke printed packaging requires special quoting so unfortunately for items previously ordered with a staff member over email, they will need to be ordered again by email. This is only because we need a human (From Gift Packaging) to review your request, re-quote and check the best options for you!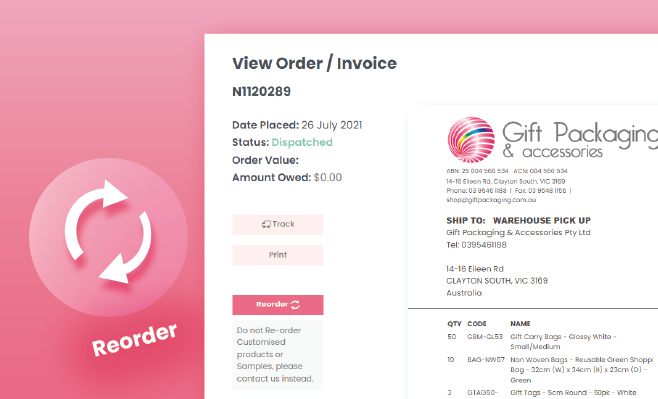 Wishlist? More like, Shopping List!
Have an event coming up that you need to start planning for? Or perhaps you're looking to change the look of your packaging and wish to make a shortlist of products you are considering? Our new and improved Wishlist feature allows you to create multiple lists with custom names so you can organise those products into separate lists. The new Wishlist page allows you to review or remove items on the list as well as check their prices and availability, so that you don't have to navigate anywhere else!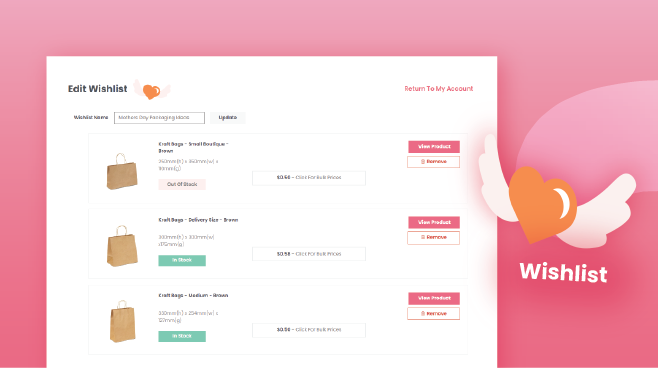 Are you a Visual Shopper? Say hello to our visual menu!
Will you only know what you're looking for when you see it? Are you struggling, trying to decipher all the different product types in a list view? Skip the list menu and simply click on 'Bags', 'Boxes', any of our main product categories and you will be navigated to a brand new page where you can see image thumbnails for each subcategory. These image thumbnails will show a preview of the products in those ranges, so that you can get to the right product, faster.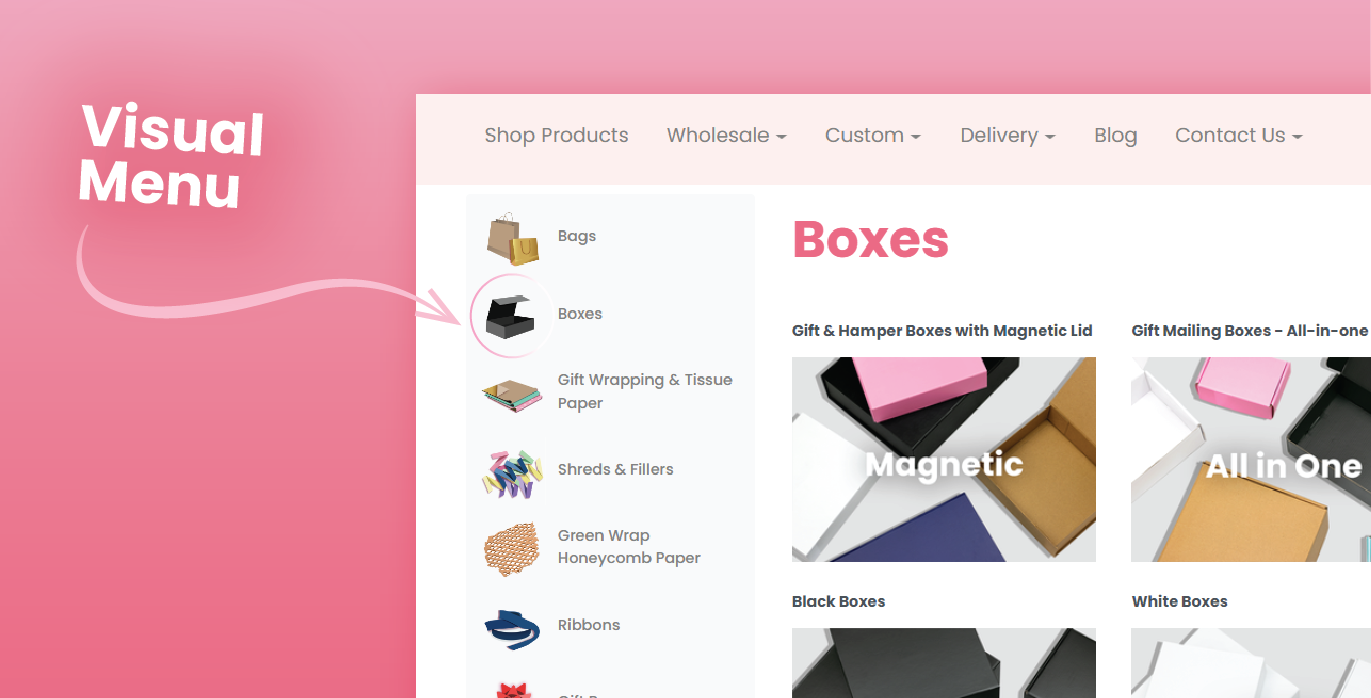 Hunting for Packaging inspiration?
We've added heaps of new informative pages for the Custom Packaging and print services that we offer. On these pages you'll find some examples and inspiration from other clients to get your creative ideas flowing! Don't forget to head to our Instagram page or Facebook page to see what other client work we are up to!
Contacting our team is even easier!
We now have an online chat feature for both desktop and mobile which allows you to talk in real time to a real human team member when available, or you can leave a message any time and we will get back in contact with you! This allows you to send a quick message and continue shopping without having to navigate away from our online store! We also have quick enquiry forms on each of our Print Service pages so you can simply leave your details and let us contact you with more information!




How about some instant advice?!
We have loads more information pages you can read regarding our Custom Packaging Services services along with more concise information pages about Delivery, Contacting Us, our Showroom & Wholesale Accounts! You can find an abundance of popular questions and answers on some of these pages or even head to our FAQ Page! If you're trying to find advice, ideas or tips you should also head to the Gift Packaging Blog where we have categories to help you find a useful blog topic, much faster! Keep an eye out as we become more active in the Gift Packaging Blog and provide you with everything from Business Advice, Packaging Trends and even Product news!




What Else Do We Have In Store For You?
Well that's top secret! But, what we can tell you for now though is that we will continue to improve your shopping experience bit by bit, day by day. If you have any feedback about your shopping experience on our online store, we would love to hear from you so don't hesitate to send an email to shop@giftpackaging.com.au
We hope that the refreshed new look for our online store giftpackaging.com.au brings a welcomed change to our long-term customers and an insightful, exciting beginning for our new customers. This blog details only a brief summary of the improvements we think our customers will love the most. If you have any questions or require any assistance navigating our new online store, please do not hesitate to Contact Us.
…If you're having fun and you've still got time, why not head to our About Us page to find out what we are all about!?



That's the end of the blog! Thanks for your time.
Want to have your say? Add a comment below...